Welcome to Inner Quest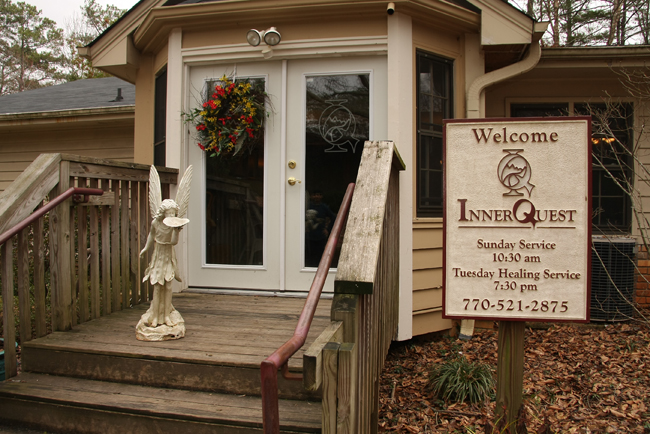 We are a Metaphysical Christian Church located just north of Atlanta in Alpharetta, GA.
Welcome to a new way to worship! Did you always know there was more to God than what you had been taught as a child? Did you always feel that you could change your life, if you just knew what step to take?
Inner Quest is a church that loves God and believes in the unlimited potential of man. We believe, as Jesus Christ taught, that it is every man's capacity to grow in Spirit and in love. With God's love, all things are possible. At Inner Quest, we seek to provide a loving environment which supports the growth and expansion of all who come.
We believe that all are the children of God, each with an individual journey and purpose. By opening our hearts and minds, we all strive toward reaching our full potential.
Have you been looking for an inclusive Christian path that holds the ideas of love and acceptance at it's core?
At Inner Quest, we value the love of God above all "historical perceptions." Jesus Christ taught us to love God and to love one another. It is through this unconditional love and acceptance that each individual grows into their own unique expression of God.
As a metaphysical church, we believe there is a cause behind every occurrence. By consciously participating with God in our lives, we can move mountains. Miracles become a daily occurrence, and life begins to flourish.
The journey towards heaven on earth begins by partnering with God.
Take the step towards transformation!
Inside each one of us is a homing signal that calls us to our destiny. Learning to follow that urging is the first step towards finding God within.
At Inner Quest, we help you rediscover the tools you already possess to create the life you were born to live. God is real, and can be a conscious part of every moment. We have a full service ministry offering healing sessions, classes, and counseling. All of these programs are designed to develop your intuition and support you on your journey to God awareness.
Let us help you take your first steps on your path towards heaven on earth!
What is Metaphysical Christianity?
The literal definition of Metaphysical is "beyond the physical."
Christian teachings have focused so much on the physical world that the totality and abundance of God has been lost in our daily thoughts. As Metaphysical Christians we rise to a higher level of consciousness and explore the truths of Jesus' teachings and encourage everyone to strengthen and nurture their individual connection with God, not based on morality but based on love and the expression of your inner light.
Responsibility
Metaphysical Christianity is based on a belief of responsibility. There is nothing you can do to make God love you any more or less than he already does. You can, however, turn towards or away from God. The choice is always yours. "Know ye not that ye are Gods?..." "You will reap what you sow."
We believe that Jesus was teaching us that what you give, so you will receive. What you do will return to you in "like manner." "Cast your bread on the waters and it will return to you after many days." If you are kind, kindness will be given to you. If you are withdrawn, people will withdraw from you. As you express love, you will draw love into your own world. Since God is love, you will feel a greater closeness to Him. If you express hatred or fear, then situations will surround you that bring hatred or fear, and there will seem to be an absence of His presence. God is never absent to any choice you may make, but every choice you make will return to you in some form or another.
Power
There is power in every thought. How much more powerful could our thoughts be when they are directed in the will, love, and presence of God? If we chose to walk with God, then every thought, belief, and desire will be sent forth not only with our human energy, but with the greater energy of God's love. Therefore, that which returns to us will be filled to overflowing with the greater.
As we send forth our good intentions to be one with God, we can move from human love to celestial love, from human good intentions to celestial good intentions. We will reap with God, we will sow with God. As we send forth our thoughts and desires in God's love, they can only return to us in God's love and we will live in the world of God's love.
The Journey
The Journey of life is to know oneself. The Path begins in the Heart.
This is the mission statement of Inner Quest that sets the intention for this church. Inner Quest has become a church that allows each individual to find a personal relationship with God. Through the sermons, healings, classes, and fellowship, the focus is always on loving one another and seeing the highest good for each individual involved. Personal awareness and responsibility are the cornerstones of unfolding a personal relationship with God. Through love, acceptance, and spiritual guidance, Inner Quest Church creates a space where each individual can make that sacred journey to the depths of their own heart.
Over the years, we have touched the lives of thousands of people. We have initiated hundreds into the healing art of Reiki, we have taught people to use their inner vision to help the world, and we have seen so many hearts begin to open. The journey of this church is a journey of love, and we are grateful for this mission.